Come for the cars. Stay for the people.
Our focus is to make people happy as they gather in celebration for the cars built by Subaru. These cars are more than just fun and functional – they're also a vehicle for making friends and building communities. By hosting annual Subaru enthusiast festivals across the United States, we embrace and grow these communities, which in turn creates new friendships and experiences for attendees, grows the demand for more aftermarket parts and services, and even creates a need for Subaru to keep pushing the boundaries with its performance vehicle offerings.
Subaru of America involvement
Recognizing the power of its owners' passion for the performance end of the brand, Subaru has been involved in a big way, helping us create truly worthwhile and exciting events. Not only does Subaru help spread the word and bring rare display cars to the event, but in 2015 it debuted the Hyper Blue color at Wicked Big Meet, followed by the debut of Series Yellow in 2016, the WRX STI Type RA and BRZ tS in 2017, and the Series Gray in 2018. With the s209 entering the US and the Subaru Motorsports program expanding in 2019, Subaru's presence at the events is bound to be the most exciting yet.
In 2018, SubieEvents, LLC put on six festivals. While looking to potentially expand in 2019, our main focus will be to continue building on and improving the good times we already provide for our awesome attendees.

6.16.19 @ York Fairgrounds in York, PA
No Subaru enthusiast festival has grown as fast as Boxerfest. In 2017, Boxerfest was home to the official debut of the WRX STI Type RA and BRZ tS. The event peaked at 4,600 participants in 2017 before getting hammered by hours of downpours in 2018, where 3,600 dedicated enthusiasts still showed up in force. Catering to the Mid-Atlantic, home of some of the nation's best performance Subaru specialists, this event's horsepower crazy crowd might also be the most genuinely happy crowd at any of our five events. To add, around 70% of attendees purchase something from a vendor while at the event.

| | | | |
| --- | --- | --- | --- |
| Founded | Location | Attendance | Primary Attendee Bases |
| 2014 | York Fairgrounds, York, PA | 3,600 (2018, in pouring rain) | Washington D.C., Maryland, Virginia, Pennsylvania, New Jersey |
2018 Partners
Subaru Tecnica International
COBB Tuning
Bag Riders
Billetworkz
GrimmSpeed
IAG Performance
J-Spec Auto Sports
Just-N-Tyme Performance
Killer B Motorsport
Kinetic Autoworks
Mach V Motorsports
Subimods
andrewtech automotive
Belfast Performance
Brown's Manassas Subaru
HydroGraphic Solutions
DirtFish
JNA Performance
Rogue Enterprises
Subi Vibes
TurboXS
Anorak Apparel
BILSTEIN Shock Absorbers
Circuit Demon
Cloud Tech Vapes
EAT SLEEP RACE
LED GUYS
Maryland Subaru Club
NOVA Subarus
Option Lab Wheels
Subiclan & Company
Visual Autowerks
LP Aventure
Performance Auto Solutions NY

6.30.19 @ Stafford Motor Speedway in Stafford Springs, CT
The largest Subaru enthusiast festival in the world, WBM isn't about quantity as much as it is quality. This flagship event sets the perfect example of worthwhile attendee engagement and sales. And with hundreds of thousands of dollars of parts and apparel sales the day of the event by vendors, this jam packed Subaru enthusiast marketplace is also a day of family fun and activities, motorsports, and show and shine. The biggest vendor packages sell out every year in under a minute.
Founded
Location
Attendance
Primary Attendee Bases
2005
Stafford Motor Speedway
Stafford, CT
8,400 (2018)
Massachusetts, Connecticut, New York, New Jersey, New Hampshire, Rhode Island, Vermont
2018 Partners
Subaru of New England
Subaru Tecnica International
Bag Riders
Billetworkz
COBB Tuning
ECS Performance
GrimmSpeed
IAG Performance
JNA Performance
Killer B Motorsport
LP Aventure
Mackin Industries
Mitchell Subaru
Seibon Carbon
Subimods
Exedy
Wiseco
DeatschWerks
BrenTuning
CTSUBIE
Hookahs & Vapahs
K1 Speed
Karbon Kings Performance
Link Engine Management
Option Lab Wheels
Secor Subaru
South Bend Clutch
Subi Vibes
Suburban Subaru
Team Subaru 15 East
VEMS
AMSOIL dealer
Anorak Apparel
Circuit Demon
DBA USA
EAT SLEEP RACE
Fusion 5 Motorsports
Larsen Autoworks Inc
LED GUYS
Liberty Mutual Insurance
MassSubaru
Mighty Club
Mishimoto
Moroso Performance
Overland Designs
Pre-owned Performace
Prime Shades
Renewal by Andersen
Sam & Oliver, LLC
Visual Autowerks
Vraceworks845
Eagleville Motors LLC
ISC Suspension
Koyorad Radiator
Performance Auto Solutions NY
subaruparts.com
SubiSpeed
DirtFish
FAST of West Chester
MtnRoo
7.21.19 @ Route 66 Raceway in Joliet, IL
New in 2018, Subiefest Midwest was the strongest event debut we've ever had. With 2,600 enthusiasts pouring into the parking lot at the inaugural event, the full day of boxer fun taught us a valuable lesson: we should have started this event way sooner.
| | | | |
| --- | --- | --- | --- |
| Founded | Location | Attendance | Primary Attendee Bases |
| 2018 | Route 66 Raceway Joliet, IL | 2,600 | Illinois, Indiana, Wisconsin, Michigan, Minnesota |
2018 Partners
Subaru Tecnica International
COBB Tuning
GrimmSpeed
IAG Performance
JrTuned
P&L Motorsports
Six Star Motorsports
Subimods
South Bend Clutch
Topshelf Performance & Fabrica
Boosted Performance
Central Wisconsin Subaru Club (CWSC)
Chitown Subarus
Chitown Subies
FL4T Society
LED GUYS
National Ski Patrol
Off the Grid Performance
RDecals
Stroud Built Performance
subaruparts.com
DirtFish
LP Aventure
MtnRoo
8.4.19 @ Portland International Raceway in Portland, OR
Located in one of the most dense Subaru enthusiast populations in the country, Big Northwest debuted as the region's largest enthusiast festival in 2011 and has been a crowd favorite ever since. The Northwest is home to many notable performance manufacturers and shops that have been partnering with Big Northwest since its early years.
Founded
Location
Attendance
Primary Attendee Bases
2011
Portland International Raceway
Portland, OR
3,200 (2018)
Oregon, Washington
2018 Partners
Dick Hannah Subaru
Subaru Tecnica International
COBB Tuning
GrimmSpeed
IAG Performance
Northwest Boxer Rescue
Oregon Subaru Club
PERRIN Performance
RainCitySubies
Subimods
6ovrcrst RallySport
Anderson Design & Fabrication
AVO Turboworld
English Racing
Factory Wheel Outlet
JAR Customs Powder Coating
PREracing
Radium Engineering
Rokblokz
Superior Soobie And Import
Surgeline
Colonel Red Racing
DBA USA
Direct Import Parts Shop
Elite Autoglass and Tint
Emerald Performance
Exedy
Mackin Industries
Mountain Roo
Mountain Wave Search & Rescue
Oregon Rally Group
Stancewars
SUBIE BROS
SykVinyls.com
Torklift Central
Al Bee Buzzin
DirtFish
FTW Tuning
Redfin
subaruparts.com
Sunwest Automotive
LP Aventure
MtnRoo
Rocky Mountain Subaru Festival
TBD Date / Location
In its 4rd year, Rocky Mountain Subaru Festival delivered big at Mile High Stadium, capturing the hearts of Subaru enthusiasts from all over Colorado. With downtown Denver in the background, RMSF featuring a mix of Subaru dealers, ski resorts, local performance shops, and big Subaru performance brands.
Founded
Location
Attendance
Primary Attendee Bases
2015
Sports Authority Field at Mile High
Denver, CO
2,600 (2018)
Colorado
2018 Partners
Subaru of America
Copper Mountain
Eldora
Klean Kanteen
Leave No Trace
MaxFund
Shortline Subaru
Tepui Outdoors
Woodward
Mofab
Rokblokz
COBB Tuning
GrimmSpeed
IAG Performance
Speedy ROO MotorSports
Subarupartsstore.net
Subimods
Team Subaru 15 CO
TGA Performance
The Boost Creep
Turtleback Trailer LLC
Anderson Design & Fabrication
Caruso Motorsports
Color Graphics Colorado
Cryotune Performance LLC
Flat 4 Freak
Flatirons Tuning
The Subie Doctor
ZF Design
ASF Machine
Funk E Built
Modified Decals
South Denver Subaru Club
subaruparts.com
SUMO Parts
LP Aventure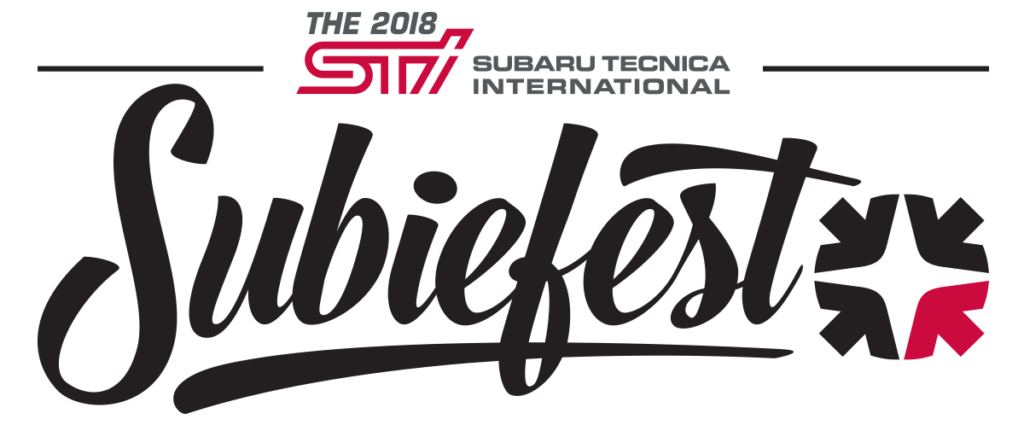 October, 13 2019 at Santa Anita Park in Arcadia, CA
In 2017 the SubieEvents, LLC team acquired the rights to the infamous Subiefest event. Recreating every aspect of the event except for the name, Subiefest 2017 & 2018 delivered what SoCal Subaru enthusiast were craving for years: an event designed to give them an awesome day of Subaru fun with no headaches. The largest Subiefest to date, the event featured loads of activities, a massive vendor row (60+ vendors), and 5,800 happy participants.
| | | | |
| --- | --- | --- | --- |
| Founded | Location | Attendance | Primary Attendee Bases |
| 2006 | TBD | 5,800 (2018) | California, Nevada |
2018 Partners
Subaru Tecnica International
COBB Tuning
GrimmSpeed
IAG Performance
LP Aventure
CARVEN EXHAUST
Children's Hospital Los Angeles
Crawford Performance
GCH Long Block Racing
Metro Performance of SoCal
Nightmotorsport
Pedders USA
Renner Racing Development
Rockstar Energy/Garage
Rokblokz
Ichiban JDM
iQ
Scosche Industries, Inc.
Subimods
Titan 7
Turtleback Trailer LLC
US ARMY
Wiseco
YimiSport Tuning
Anderson Design & Fabrication
Compressive Tuning
DND Performance Interior
JDMFV
Mackin Industries
Maxx Oil
Mighty Club
Motegi Racing
LOT USA / BRIDE USA
Mountain Roo
MyJapanDirect
NTP / ORC – OGURA RACING
OEM Audio Plus
Option Lab Wheels
OUTFRONT MOTORSPORTS INC.
Rally Innovations
Spec-D Tuning
Turbonetics
VIBE Motorsports
Whiteline Performance
ZF Design
Aeroflowdynamics
Custom Japanese Plates
Detail Garage / Chemical Guys
GrillCraft Custom Products
Helping Out Pets Everyday
NonStopTuning
NOS Energy
OIRAM USA
OS Giken USA
REK GEN Mud Guards
SEVERESKY .JP INC
SmellyPanda x TreefrogUSA
SoCal Subies
Spdconcepts
Team Subaru 15
Tuned In Tokyo
tuning technologies
subaruparts.com
VTX Offroad Wheels
Awdsome Lifestyles
Between The Lines
DirtFish
Precision Turbo
Leen Customs
For general inquiries, please email info@subieevents.com
Robert Champion, Event Director
robert@subieevents.com
Facebook | Instagram

Khanh Duong, Logistics / General Manager
khanh@subieevents.com
In 2018, SubieEvents, LLC played host to over 26,000 Subaru enthusiasts across America. It's best known for its direct reach into enthusiast communities and giving sponsors down-to-earth access at a grassroots level—all while understanding corporate needs and obtaining the attention and coverage from the masses.